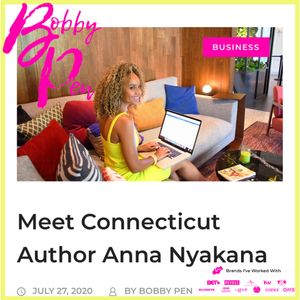 HOUSTON, TX - JULY 27, 2020 --- Meet Anna Nyakana from Stamford, Connecticut who is an author and entrepreneur. 
Niyah Zuri Books & Niyah Zuri Studios/"Niyah Zuri and The Pharaoh's Throne"
Has it been a smooth road? If not, what were some of your struggles along the way? 
There have been many obstacles in my journey. In the very beginning, publishers rejected my manuscript. Others loved my story idea but wanted to make my main character less "urban". I have kept all the rejection letters until this day. I would not compromise my fearless Black heroine. Instead, I decided to publish on my own to get my book into the hands of young readers. 
The first year I sold a few hundred, the next year a few thousand and last year 10,000. In addition, another obstacle occurred when implementing by book into the curriculum of schools in my State and abroad. Many administrators didn't believe this was a crucial story to a child's development. I fought to change their minds and succeeded. As a result, I proved that our stories are beyond Black History Month. 
What do you do? What are you most proud of? What sets you apart? 
Niyah Zuri Books is the book imprint for the Niyah Zuri children's book series, most notably the bestselling "Niyah Zuri and The Pharaoh's Throne." I specialize in bringing representation to kid's books for they "deserve to see a reflection of themselves in the book they read. Additionally, my mission is to inspire them, one adventure at a time!" Therefore, I am most proud of implementing my book in countless districts of my own state, across the U.S., and in Canada. I also know that the Niyah Zuri series is changing the narrative; brining diversity to the classroom. 
My persistence sets me apart. I don't focus on sales like normal authors or even collaborate with normal author channels, for instance. Instead my focus is impacting a child's mind for a lifetime by ensuring they are learning about world culture and multiculturalism in schools. Furthermore, I uplift my community by supporting other entrepreneurs who join me in the movements of inuring and uplifting our youth and communities. I am now elevating my mission beyond books. Therefore, through my company, Niyah Zuri Studios, I am creating a cartoon series based on my books; pitching to networks in the coming months.