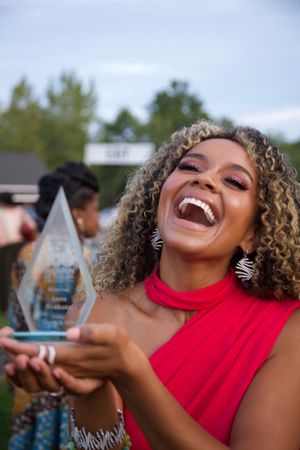 My Niyah Zuri journey started five years ago, with constant "No's", closed doors, and obstacles in my path. Through it all, I remained consistently persistent, for I vowed to never let that younger version of myself down. The younger version that couldn't find a character on the cover that looked like them and attended a low-performing school on the "wrong side" of town that no one cared to invest in it's students.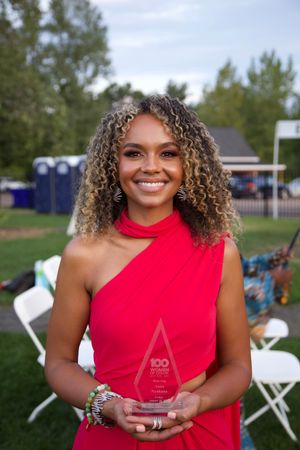 It is my DEEPEST honor to receive the 2020 "100 Women of Color Award" as well as being selected as this year's Valedictorian. I will continue the work of investing in our kids regardless of their zip code, to ignite that flame within them and remind them each day of their worth and value through "The Fundamental Truths of Niyah Zuri"©; to create books and digital content that instills self-love through representation and teaches them of their glorious history and those of rich cultures different than their own. I've said it before and I'll continue to say it, WHEN ONE OF US WIN, WE ALL WIN! Thank you all for your support over the years - I promise to not let you down - SHOUTOUT TO THE TRIBE!!! 
Special S/O to my Brother, my DAY 1 since birth Enock Nyakana. To my Soul Sisters, Sophie Lee and Bianca Danielle, thank you for always having my insides and straightening my crown when needed. To my dear friend Julien Guiteau for taking five modes of transportation from PA to record this incredible moment as an exclusive behind the scenes for Chillin With Julien and the countless friends and Tribe members that reached out before, during, and after the awards ceremony to uplift and sincerely pour into me - THANK YOU ALL! 
Deepest gratitude JuneArcher, ELEVEN28 Entertainment, and 100 Women of Color for this incredible honor - time to get back to work!

WATCH THE EXCLUSIVE BEHIND THE SCENES RECAP OF MY JOURNEY TO RECEIVE THE 100 WOMEN OF COLOR AWARD AND VALEDICTORIAN HONOR!